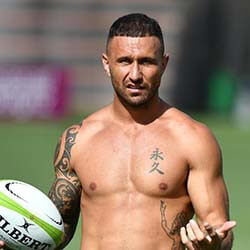 Wallabies star Quade Cooper is after a long struggle set to be granted Australian citizenship.
Immigration Minister Alex Hawke announced earlier this week that a decision had been taken by government to allow flexibility to so-called "distinguished" applicants. These are individuals, like Cooper, who face unique challenges because of precisely what makes them exceptional.
Cooper had on several previous occasions complained that the nature of this touring schedule had caused four previous applications for citizenship to be rejected.
According to the provisions of current immigration rules, in order for applicants to successfully apply for citizenship, they must have permanently resided in the country for at least the past four years – and without being absent for longer than 12 months during that period.
Hawke however on Tuesday announced certain exceptions would henceforth be made for certain groups – including elite athletes like Cooper, scientists, artists, and businesspeople. The minister explained that the decision had been taken that exceptional people like Cooper should not be hindered from becoming Aussies by the demands of the exceptional work and activities they do.
Cooper, who qualifies for playing for the Wallabies via residency, has been living in Australia since he was 13. He has appeared in 71 games for the country, and on Sunday played a leading role in seeing Australia to a long-awaited victory over rugby world champions the South African springboks.
The Wallabies star this week thanked Labor home affairs spokesperson Kristina Keneally for her advocacy on his behalf.