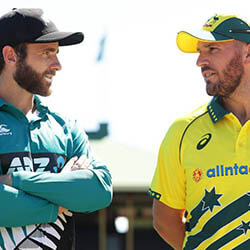 Aussie coach Justin Langer says he isn't at all keen on the possibility of two international competitions being played simultaneously by his team early next year – a situation he says will lead to a weakened Australian side facing off with New Zealand's Black Caps in next year's T20 series. New Zealand's Black Caps will in February-March host five Twenty20 internationals against the Aussies.
The challenge is that the touring Australians will at the same time also be playing a three-test series in South Africa – against the Proteas. The most likely outcome will be an Aussie side facing New Zealand's best players without any help from guys like Steve Smith, Josh Hazelwood, Pat Cummins, and Mitchell Starc. And it's a scenario Langer is accusing Cricket Australia chairman Earl Eddings and CEO Nick Hockley of having orchestrated – albeit obviously without malicious intent.
Though Langer said he understood the complexity of the scheduling situation given current circumstances, he isn't at all keen on two Australian teams playing in the same space of time. Australia is one country and one sport, said the disgruntled coach.
And it's a scenario he says spells nothing good for the Sheffield Shield, which is Australia's top-class competition. Widely considered the top domestic competition in the world, the Sheffield Shield is the Australian cricketing world's pride and joy – making it understandable that Langer will want to do everything in his power to preserve the competition's leading standing.
Langer seems tolerant of the unusual shake-up given the unique situation but was quick to add that he would hate for any of the solutions currently being tabled to become permanent fixtures in the future.